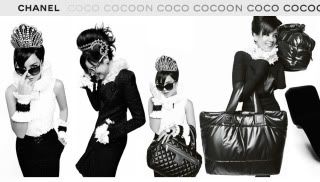 This Fall 2009, Chanel will launched a fashionable and tongue-twister bag collection. Named as the Coco Cocoon Collection, this new line of handbags and fashion accessories are created from nylon or washed lambskin materials.
Because they are reversible, one side of it conveys a puffy bag while the other reveals the signature quilt patter of Chanel. The collection is consist of fashionable handbags, travel bags and other leather items.

You can find the rest of the collection at the Chanel Coco Cocoon Collection official site.

For the campaign ad, Chanel picked Lily Allen to be the face of the said collection. The fashion campaign ads made Lily Allen channel Audrey Hepburn in Breakfast at Tiffany's movie.