The cast of Gossip Girl has been filming some scenes for the tv show's 4th season in Upper West Side and they were spotted with their signature looks.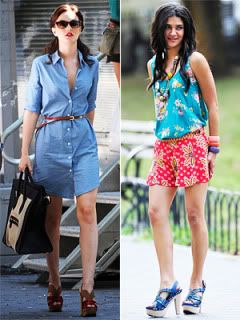 Blair Waldorf in a belted shirtdress paired, Miu Miu platform heels and Celine handbag.
Vanessa Abrams wore a clashing pair of tap shorts and printed blouse.

Serena in a berry-colored maxidress and Chanel shoulder bag.



New cast, Juliet Sharp, sported a business look with matching neutrals.



Vanessa in clogs and fringed messenger bag.